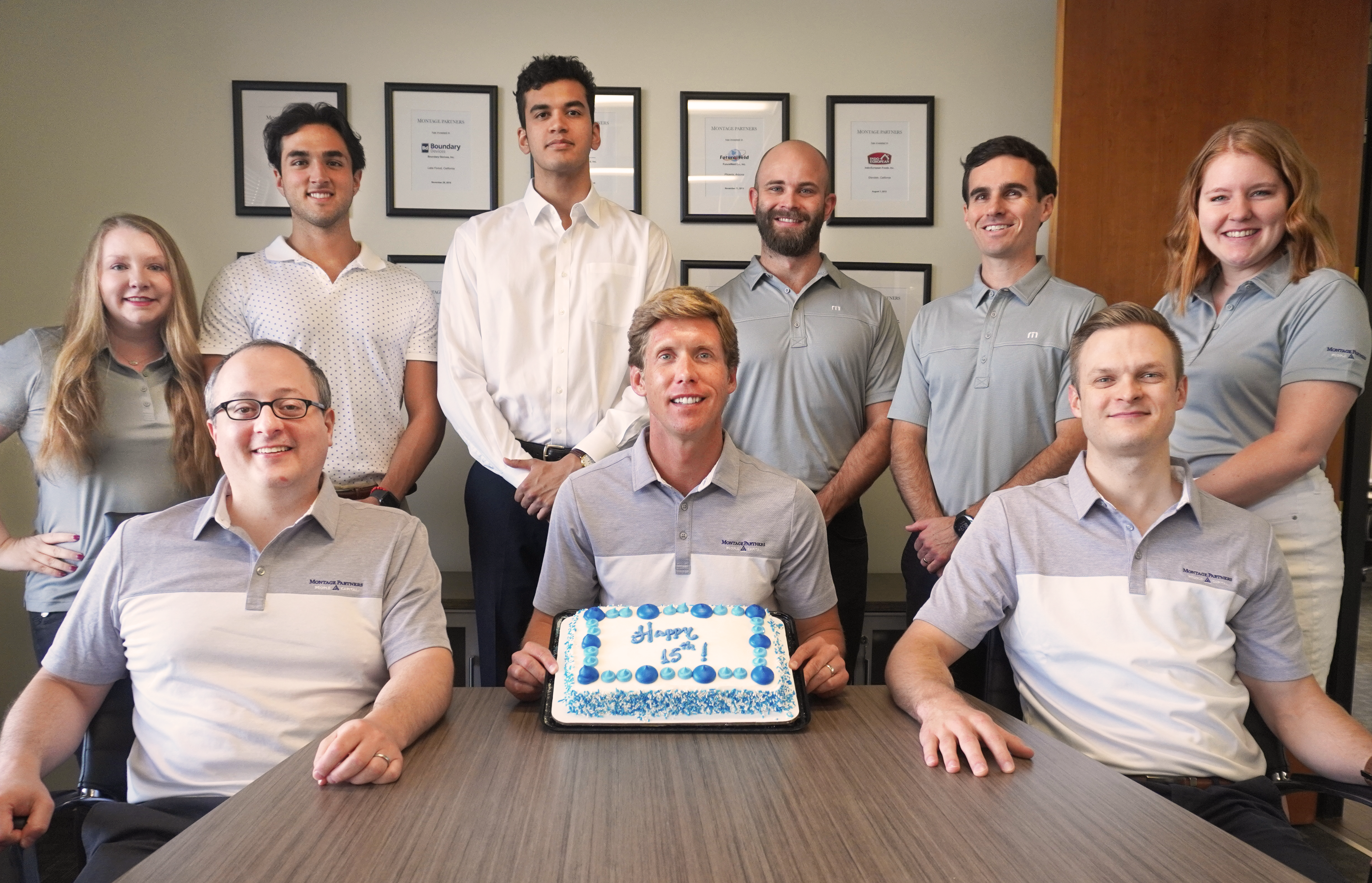 SCOTTSDALE, AZ – Montage Partners, a people-first private equity firm based in Scottsdale, Arizona, is celebrating an important milestone this year: 15 years of successfully partnering with business owners in the lower middle market.
Founded in 2004, Montage Partners, like most founder-owned businesses, began as a small effort with little more than a subleased office space and a passion to invest in and grow companies local to Arizona. Now, 15 years later, the firm recently closed on its 15th investment, bringing the total number of active investments to eight. And the momentum continues to grow: the team has expanded from two to seven, plus a robust internship program. The geographic focus has broadened from Arizona to national, while the number of investment opportunities is also increasing: two years ago, the firm reviewed approximately 500 potential investments, last year that number was 750, and this year it's on track to exceed 850.
"We've been fortunate to partner with wonderful people building great companies over the past 15 years," said Jordan Tate, co-Managing Partner and one of the original founders of Montage Partners. "We're proud of our successful track record. And, we're proud of the quality of people on our team contributing daily to the success of the companies in which we invest. We're excited to further accelerate investments in great people at Montage Partners and to continue to deploy capital to support exceptional people at our partner companies. The first 15 years represent only the first inning for us. We're just getting started on a long and fun journey!"
In keeping with its promise to provide more than just capital to its partner companies, Montage Partners has invested significantly over the years in internal resources to better support these companies. This includes near term plans to bring on a new team member dedicated solely to operational support of partner companies, as well as a recently hired marketing manager – a role absent in most private equity firms – available to assist partner companies in their marketing and sales efforts. The firm will also launch a new website soon, with resources and materials intended to better inform business owners and management about the ins and outs of the private equity industry.
Along with this educational outreach, Montage Partners is committed to deepening its engagement with the local community, currently working with local non-profit Arizona Helping Hands and exploring partnership opportunities with Arizona-based universities, among other efforts.
"Our mission as a firm runs deeper than most other investors in the lower middle market. We've striven over the last 15 years to not only improve the companies we're partnered with, but also to make it a priority to support our communities. This higher purpose means we're just as committed to helping people in the community as we are at our partner companies, something we never lose sight of," explained Rob Wolfman, co-Managing Partner of Montage Partners. "We look forward to further enriching our relationships with our communities for many years to come."
About Montage Partners
Founded in 2004 and headquartered in Scottsdale, Arizona, Montage Partners is a people-first private equity firm dedicated to helping established businesses reach transformative growth. Montage Partners invests in companies in diverse industries, including business services, consumer, healthcare, industrial and technology. Above all other investment criteria, Montage Partners invests in exceptional people. Montage Partners is actively seeking new investments in companies in the U.S. with EBITDA between $1 million and $5 million.