SCOTTSDALE, AZ – For the seventh consecutive year, Equity Methods is a top company to work for in Arizona, ranking #1 among companies of similar size in the state's most prestigious workplace awards program.
Sponsored by the Arizona Commerce Authority, Top Companies to Work for in Arizona is a program of The Arizona Republic, azcentral.com, BestCompaniesAZ, and BestCompanies Group. The 2019 honorees were celebrated this morning during an awards event at the Sheraton Grand Phoenix. Equity Methods manager Radostin Kanev accepted the award on the firm's behalf.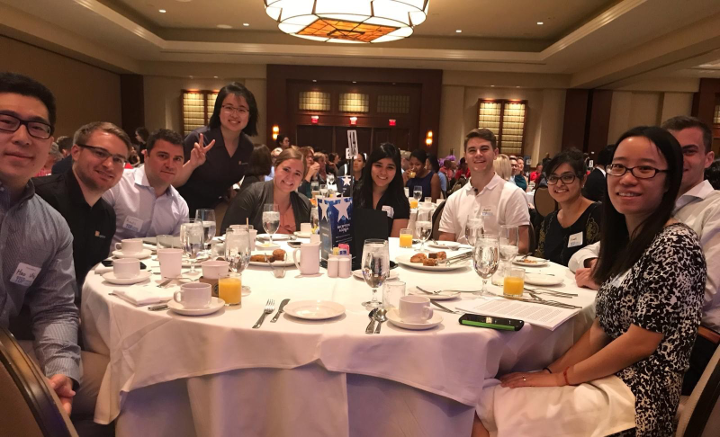 The Equity Methods table: Hao Wu, Matt Gabrielson, Radostin Kanev, Fori Wang, Taylor Jensen, Ayushi Mundra, Austin McGlumphy, Saswati Sen, Jared Nielsen, and Boxian Kolb celebrate at the 2019 Top Companies award breakfast in Phoenix.
The Top Companies program recognizes the best organizations across the state based on an in-depth survey that evaluates employee engagement and satisfaction along eight criteria:
Leadership and planning
Culture and communications
Role satisfaction
Work environment
Relationship with supervisor
Training and development
Pay and benefits
Overall engagement
The program is open to employers with 25 or more employees.
Takis Makridis, president and CEO of Equity Methods, said: "Being rated the #1 small company to work for in Arizona is a wonderful affirmation of the entire team's commitment to sustaining a culture of excellence. We're very honored by the recognition and excited about the next phase of our journey."
A feature article on azcentral.com highlights Equity Methods' culture of nurturing leadership, extensive employee benefits, award-winning client service, and new services and products.
To see Equity Methods program rankings in previous years:
To learn more: